Gresham recognizes that a responsible investment strategy is key for ensuring the best long-term outcome for both investors and the wider community. In keeping with the firm's Environmental, Social and Governance ("ESG") Policy, Gresham commits to demonstrate appropriate consideration as to how ESG factors affect the performance of its investment portfolios. Gresham is committed to researching and reviewing potential integration of ESG considerations across all asset classes and investment strategies in the ordinary course of business.
ESG & CORPORATE GOVERNANCE AT GRESHAM
Gresham's CIO also serves as Gresham's Chief ESG Officer. The Chief ESG Officer chairs the Gresham Environmental, Social and Governance Committee (the "ESG Committee"). The purpose of the ESG Committee to is to oversee the research and review of potential integration of ESG considerations into Gresham's existing and future investment strategies. The Committee's membership includes representatives from both the Gresham business and Nuveen's Responsible Investing Team to facilitate collaboration between the Gresham business and Nuveen on ESG topics.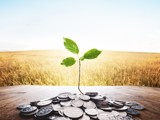 ESG factors can affect portfolios to varying degrees across companies, sectors, regions, asset classes and through time. To-date, the growth of responsible investing has focused predominantly on the discretionary trading of single issuer securities rather than on the macro and systematic trading of commodity futures that comprises all but a small fraction of Gresham's advised assets. Nonetheless, Gresham continuously evaluates how ESG values might be included in the execution of Gresham's strategies.
LAUNCHING THE FIRST ESG-FOCUSED COMMODITIES INDEX
Gresham has developed the commodity market's first commodity futures index to incorporate ESG considerations, which is published daily under Bloomberg ticker GESGCI. The index is designed for investors seeking exposure to liquid commodities with stronger sustainability profiles and reduced contributions to adverse climate change. Leveraging data from a market-leading third party ESG data source alongside public data on commodity-specific greenhouse gas emissions, it is constructed using ESG scores to reweight commodities within a broadly diversified commodity portfolio, systematically excluding commodities that have poor environmental scores and significantly underweighting commodities that have poor social and governance scores.